Leanne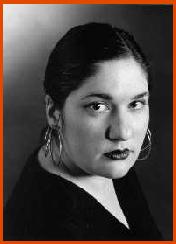 Leanne is the 'low voice' of SWISH. She used to sing in choirs, and once even entertained the concept of learning to sing classically. She came to the conclusion, however, that jazz sounded like more fun. (Apart from anything else, a jazz singer gets to wear sequins more often... and if you forget the words you can make them up as you go). As it turned out, Leanne's sultry voice is well suited to this style... and her personality is well suited to the wearing of fake hibiscus flowers.
Needless to say, Leanne loves to sing jazz and blues and has a particular taste for Latin numbers. Ah, the hot rhythms, the swaying dancers, the brightly-coloured parrots... not bad for somebody born in the Snowy Mountains! Happily, joining SWISH and singing with Kat and Derryth has opened up a whole new world of music for Leanne. If you had asked her ten years ago if she could imagine herself singing the range of styles that SWISH covers, she would have laughed, but now she is addicted to the lot...
Apart from singing with SWISH, Leanne writes about science, does Mexican dancing and shares a home with one husband and six birds. She would like to think that she sings better than her birds, and in the case of the ducks and parrots this is probably true, although the elderly canary can still manage a great bossanova.